Home Owner Tips For a Shaky Economy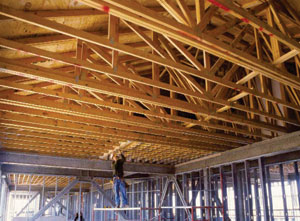 Being a home owner is a different ball game than it used to be. In my grandfathers day owning a home meant security and a lifetime of memories. Now it means constant financial risk and hours upon hours of planning just to keep the thing from the banks. Owning a house isn't like it used to be at all, or at least the world isn't as it used to be. What's important right now is returning to a "practical" sense of mind. It's still possible to raise the value of your home and lower the risk when you decide to sell, all you have to do is look at smart investments that can be done by yourself (or with a few friends).
A storage shed is one of the most practical things you could invest in for your home. It adds space for storage (allowing you to empty out the house a bit) and makes keeping landscaping gear much more convenient. Paint it the same color as your house and it suddenly becomes an invaluable addition to the property. The other benefit here is that a shed often motivates you to do more around the yard, which will also raise your property value.
Without a doubt, a sturdy and reliable fence around your property is my best recommendation for any home owner. Again, things are tough all over right now and security is another factor to keep in mind. Putting a solid (not chain-link) fence around your property will go a long way towards giving burglars a second thought about robbing you. Also, especially with aluminum, it's possible to choose from several elegant styles. Adding custom accessories to your fence gives it a distinctive look and adds a unique quality to your property, also raising its value.